Accommodation
WiFi / Smart TV and Speaker
Life's a Beach is luxury apartment located in the beautiful Coral Cove condo situated directly on the beach - great views of Caribbean sunsets over the sea. There are three large bedrooms, three high quality bathrooms, an open-plan kitchen/lounge area which has slide away doors onto a balcony which stretches the whole property. The property has been interior designed to a high standard and we endeavour to keep adding new items - our new deep seating sofas; new dining area furniture; and further additions to our Barbadian original artwork. Built-in air conditioning is in all rooms.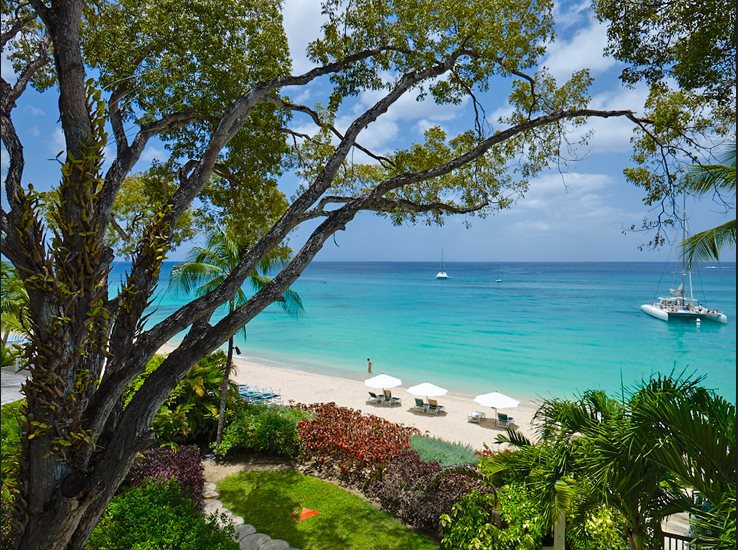 Coral Cove
The staff at Coral Cove maintain the beach area in front of the building - there are ample sunbeds and umbrellas which always seem to be the first out there even when we get up early. There is a cordoned off safe swimming area. The turtles nest on the beach. We have seen loads of tiny turtles scampering down to the sea. They had to be caught by the turtle people for safer letting out at night. Bring your snorkels - lots to see, if you don't want to swim out as far as the turtles then there are reefs either side. As the sun comes down, wander back up to the apartment to get some fizz or alternatively, there is a small beach bar which does wicked rum punches and surprisingly good fried fish, spring rolls, wedges etc.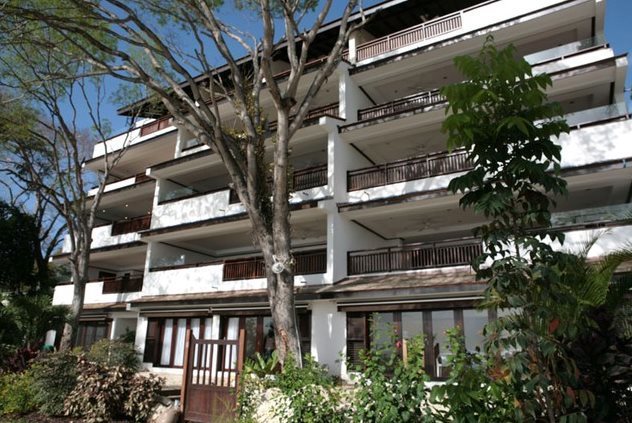 Complex
Coral Cove itself was completed in 2006. It has 14 apartments - not a massive development. Life's a Beach has a dedicated parking space which is easily accessed via drive thru electronic gates. It has 24 hour permanently manned security who cover both the condo and beach chairs. Access to the condo areas is by security code.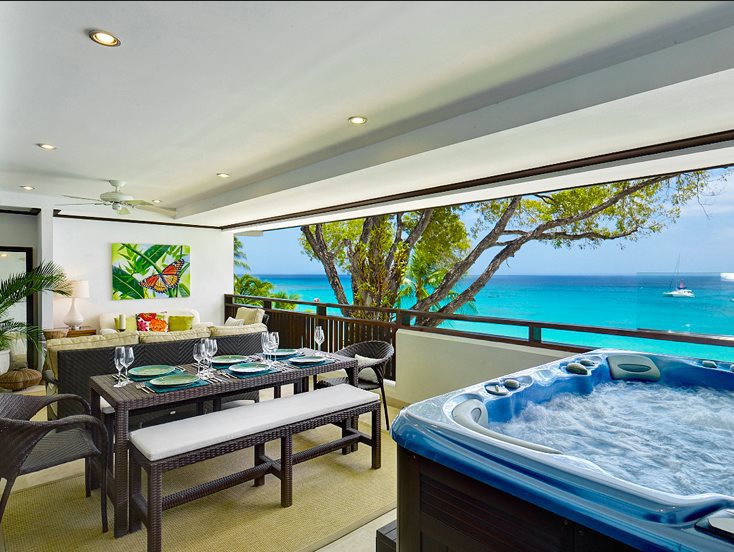 Balcony
The balcony consists of a lounging sofa area, a Lloyd Flanders dining table with chairs and a 7 person hot-tub (maintained each week). Typically, you won't want the tub to be too hot in this climate unless you are a very strange person. Great for sitting in and sipping champagne watching the sunset. The balcony is a perfect height - high enough for a great view and just below the leaves of the mahogany tree.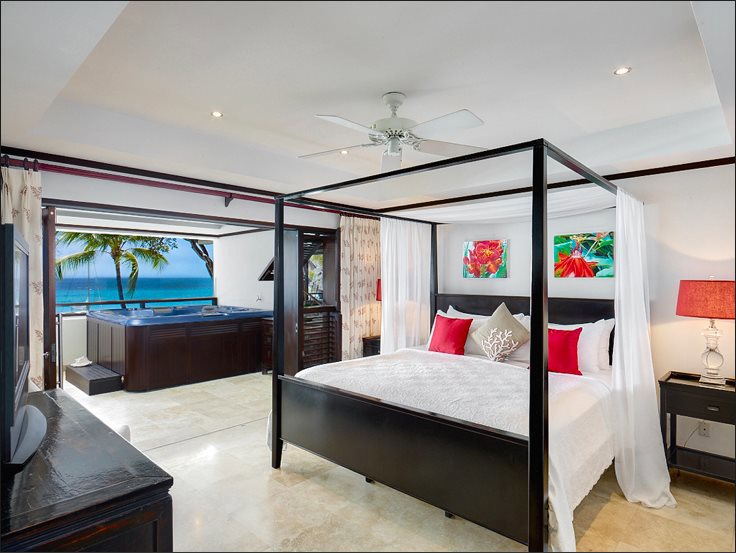 Master Bedroom
Life's a Beach has three good sized bedrooms. The master bedroom opens with sliding doors direct onto the balcony. It has ensuite granite bathroom with two basins, large bath and walk-in shower. It has a walk-in dressing/wardrobe area. There is a flat-screen cable TV.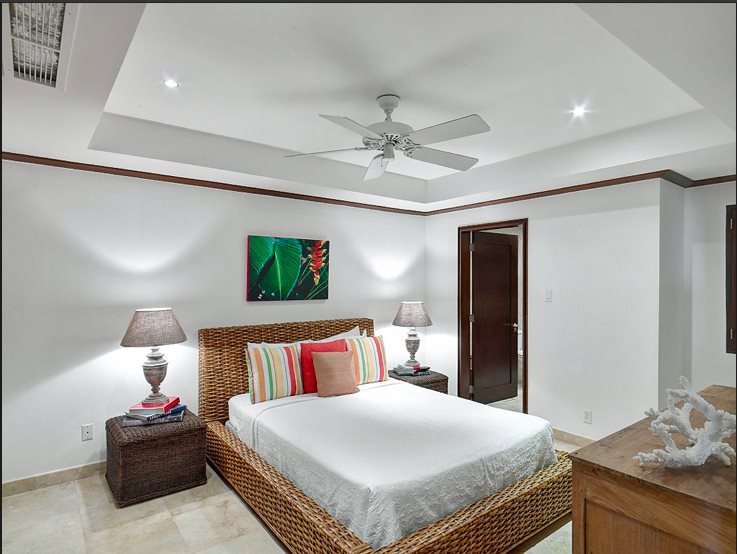 Bedroom 2
The second is at the rear of the condo with shutters out onto the landing area. It has a queen bed and en-suite granite bathroom with two basins and walk-in shower.
Check Availability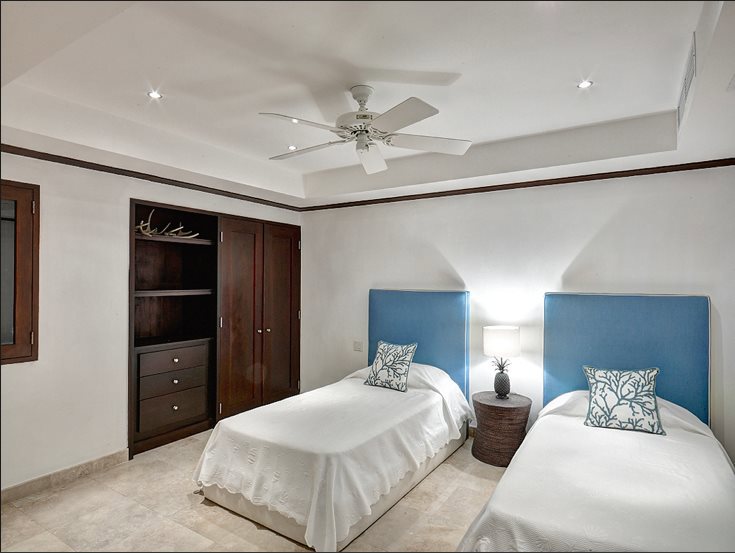 Bedroom 3
The third bedrooms is also at the rear of the condo with shutters out onto the landing area. It has twin beds and has the bathroom with walk-in shower adjacent.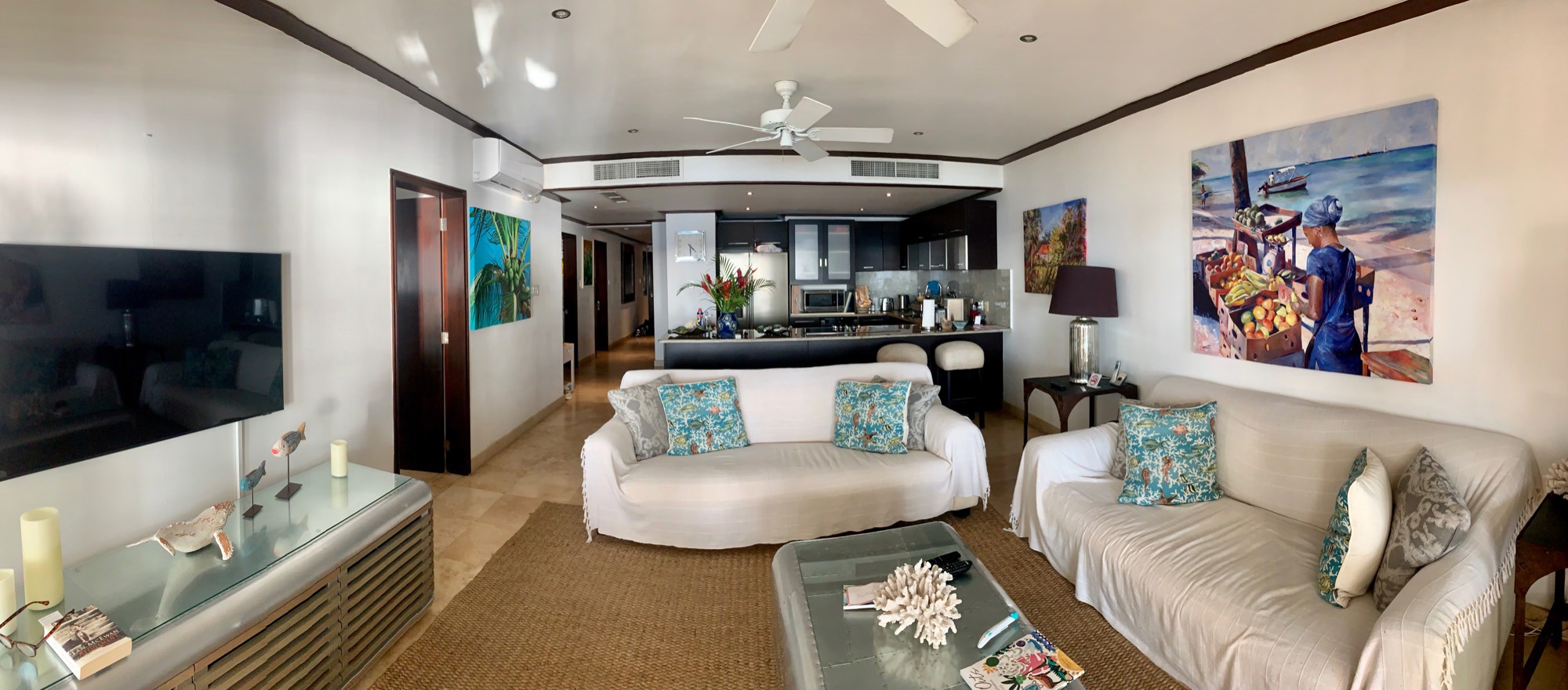 Lounge
The lounge area has two good sized deep sofas; Timothy Oulton posh furniture; Samsung smart-tv (55 inch) and Bose sound bar with a decent cable package including HBO, ESPN, Apple TV for use with iTunes, Netflix and Amazon Prime. There is a DVD player with a few DVDs for you to enjoy. We have a Google Max smart-speaker - you can ask it questions - such as the weather (usually scorchio) and ask it to play music via Spotify or alternatively connect your own device via Bluetooth.
Our wifi works really well - much better than a shared hotel connection - for facetiming/WhatsApping family back home.
Check Availability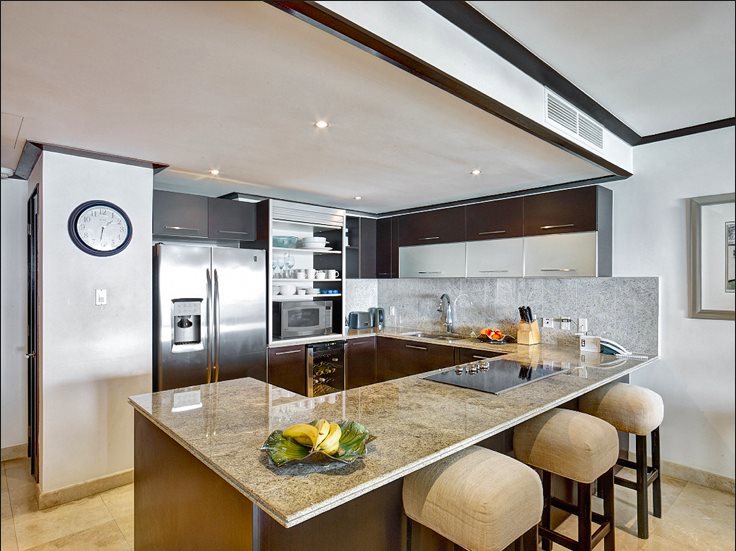 Kitchen
The kitchen area has high specification fittings - I have to say, my favourite in the wine chiller. There is a separate room for the washer/dryer. It's great to be able to cook up a meal while chatting to people in the lounge area and the balcony. You don't really need a barbecue here - the kitchen feels as though it is part of an outside area. Appliances include de-longhi espresso/cappuccino maker, oven and ceramic hob, microwave, large fridge/freezer with ice dispenser, juice maker, filter coffee maker etc.
Here is a short video produced by my property manager which gives a good feel for the apartment. It is a couple of years old and we continue to buy new furniture, paintings, appliances etc but it gives a reasonable view. Feel free to book with Young Estates if you wish but best prices direct with me from this website.